"A vapid photon, glittering for an ignorant audience…I wish they knew what an appalling effort it takes to get your facade ready to be photographed."
Today's post comes days after watching Pokemon Detective Pikachu, a film I truly enjoyed. It was a product Pokemon deserved, a lot of fans deserved. It was nice to see a creative project turn out that way. Offered quite the euphoria, the passion of a honeymoon.
All nice things come to an end, however. In comes The Extendables, a picture my brother nominated for Worst Ever. Surely, it could not compare with the infamous Alien 3?
Now, our feature presentation.
Annihilation of art is apathy, approved of affluent if not agitated aggression against amorous activity and an affiliation for assembly. Bemoaned of both brethren and breed, it behooves this beast to bluntly and brutally banish bright benevolence and broach banality boastfully as both benefactor and beneficiary. Cold, collected, calculated, conceded and consumed with callous contains, cancerous cats carry cautiously, carefully clawing cleverness, charm and chivalry whilst creating chaotic confines and crippled creatures. Devoid of desire and detached from development, a drift destined for destitution and desolation, this decrepit and diseased, dour and damaged delicacy devours destiny, destroys design and disables emotion, envious even enamoured with elegance whilst estranged from empathy.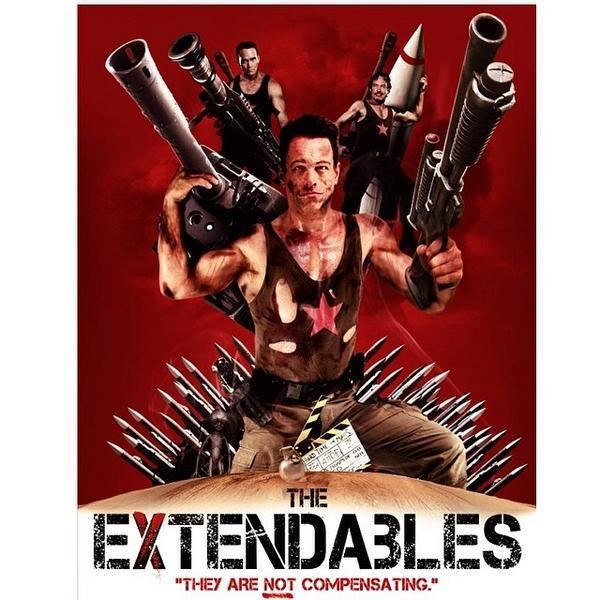 If you struggled to understand that poetic dedication, let me dumb it down for you. Apathy is love's greatest villain and apathy chomps at the bit at any sort of attachment whether emotional or intellectual. It is to apathy's salvation to eliminate the arts, creativity and all that is good in life. It rips at the fabric of imagination. Color, intrigue, tonality, character, story, passion, apathy wants all of it off the reservation. Apathy is manipulative and a control freak. It's a parasite and its existence depends on sucking the life out of everything around it.
Apathy presents a large hurdle to progress. Education and resolution depend on conversation. If someone doesn't care, why would they engage in discussion? It stifles dialogue and emboldens annoyance and frustration. If you get frustrated enough, you'll start throwing things.
I wanted to throw all the things while watching The Extendables, a film so destructive to the finer qualities of life it's hard not to mistake it for a toxic waste facility. This production is pretty upfront about its sewage. Its opening sequences reek of an unimaginable fermentation. You recoil from the discharge, effusive and debilitating as it is. The stench is overpowering, paralyzing even. You want with all your power to flip the switch, pull the cord and toss the television off the balcony. It's infected and your house must be cleansed but you have already been traumatized, made immobile by the force of this wretchedness. There is one option:
Burn it.
All of it.
Rid this poor planet of its existence. Save humanity, for the love of God. Don't let this cretin escape the premises or we are all doomed. Our extinction is inevitable if you don't. It is up to you, dear reader, to do what must be done, for the sake of not just this world but the universe as a whole. Black holes, suckers of all things big and small, fear The Extendables. Global warming is caused by this picture. The Sun is being sucked closer to Earth each and every minute by this evergrowing wormhole. The fragments of reality shake in its presence.
The Extendables is a hit piece, designed to attack the framework of Hollywood and art itself, painting the experience of film making with a broad brush of power, greed, negligence and sexual harassment.
Director Brian Thompson had worked in the industry previously and given the blurb he dictates here, he doesn't think much of the place, slathering it in debauchery and hate-filled rhetoric. If Mr. Thompson wanted his concerns aired, an interview would have done the trick, even a documentary. A parody was not the right format to air his grievances.
And as stupid and unlikable as Mr. Thompson is, I think he was well-aware of this. The Extendables wasn't about making a point; making a point involves critical thinking, persuasion, communication and a somewhat functioning heartbeat, none of which the abomination possesses. It just is.
The Extendables is all that is wrong with this world: contrived, arrogant and narcissistic, unwavering in its incessant need to control the room. Selfish, short-fused and with the attention span of a fly doused in kerosene, The Extendables is one of those movies that has a face asking to be punched and it feels righteous and right to do so. No redeeming qualities can be found in this hellspawn. Best light it on fire and kick it off a cliff.
Brian Thompson is a sick, sick man, a man full of himself to the point that interacting with him induces vomiting. He's one of those people who views himself as a supremacist, superior and undeterred until the end. A megalomaniac drunk with self-adulation, Mr. Thompson can't help but check off the boxes of ways he's better than everyone else. He probably sends himself a birthday card, the chump.
This dolt, jealous of the success of the musclemen of Hollywood, decided to devise a smear campaign rife with politics and rumor mills. It felt like watching a political commercial if political commercials were an hour and a half long, shot in abandoned buildings in Detroit on film from the 90's and edited like a college news station in your mom's basement.
Brian Thompson is a hack. No real artist could ever compose something this unspeakable. The dialogue's blood flow is clamped with the exception of two snippets where I caught myself edging forward with the slimmest of hopes, the same type of desperation one buried alive shudders with when they see a pinprick of light.
It wasn't light.
It was water. The cemetery was being poured on and soon I would have the luxury of drowning whilst being entombed. Quite the entertainment.
Beings with such a disregard for human life are often locked away. Thompson walks freely under the "It's art" license. What crud.
Bumbling birdbrains meander from shot to shot uttering content that makes Billy Madison look like Harvard law school. With such a narrow scene of production, it's impossible for creativity in shot selection or cinematography to take place.
It's a single droplet of feces on a canvas, so small and yet so inexplicably damaging. Abrasive like racism and soothing like the Saw franchise, The Extendables leaves me unsympathetic. It's undeserving of pity or empathy. It wouldn't know what those things were anyway.
Once again, if you're new to my blog, I've always ranked movies on a scale of 0-100 (I don't know why, I just always have). Here's the grading scale.  
90-100  It's a great movie and definitely one worth buying. (The Matrix, L.A. Confidential, Her, Taken, Captain America: Civil War)
80-89  It was a pretty good movie and definitely one worth seeing, but it doesn't quite scratch my top ten percentile. (Pokemon Detective Pikachu, The Matrix Reloaded,Wanted, Law Abiding Citizen, Scott Pilgrim Vs. The World)
70-79   It's okay but I've seen better. It has its moments, but it has its flaws, too. (The Matrix Revolutions, Triple Frontier, I am Legend, Ip Man 2, Ip Man)
60-69   It's got plenty wrong with it but I still got enjoyment out of this one. (2 Fast 2 Furious, Doctor Strange, Johnny Mnemonic, Jason Bourne, Suicide Squad)
50-59   This movie isn't intolerable but it's not blowing my mind either. I'm trying really hard to get some sort of enjoyment out of this. (XXX, The Silence, The Fast and the Furious, Brooklyn's Finest, Death Race)
40-49   This movie is just mediocre. It's not doing anything other than the bare minimal, so morbidly boring that sometimes I'm actually angry I watched this. (Doom, The Fast and the Furious: Tokyo Drift, Pirates of the Caribbean: Dead Men Tell No Tales, Power Rangers, Underworld: Evolution)
30-39   Definitely worse than mediocre, the 30′s ironically define the 1930′s, full of depression, lack of accomplishments, poverty and just so dumb. (High-Rise, Most Likely to Die, Independence Day: Resurgence, The Crow: City of Angels, Centurion)
20-29   What did I just watch? Cliches, stupidity, nothingness, did I mention stupidity? Just…wow. (XXX: State of the Union, The Snowman, Avalanche Sharks, Catwoman, The Gunman)
0-19      Watching this movie resulted in one or more of the following: seizure, loss of brain cells, falling asleep/unconsciousness, feel you wasted your time/day, accomplished nothing for you, left the movie knowing less about it then you did going into it, constantly asking yourself why you came to see this movie, or near-death experience. In short, staring at a wall was just as entertaining as watching this movie. This movie deserved a sticker or a label that said, "WARNING: EXTREME AMOUNT OF SUCKAGE." (The Coed and the Zombie Stoner, The Forbidden Dimensions, Cyborg, Outcast, Sabotage)
My score for The Extendables: 3.
Apocalpytic agony awaits anyone attempting to extend their life after watching this atrocity. Truly terrible in every critical way, The Extendables is the type of work that needs all of its copies burned. Erase it from history. It will take weeks to soothe the scars on my memory.
With that, we have a new champion. The Extendables is officially the worst to be critiqued on this site.
Congratulations, tool. Now go lock yourself in the basement and swallow the key.