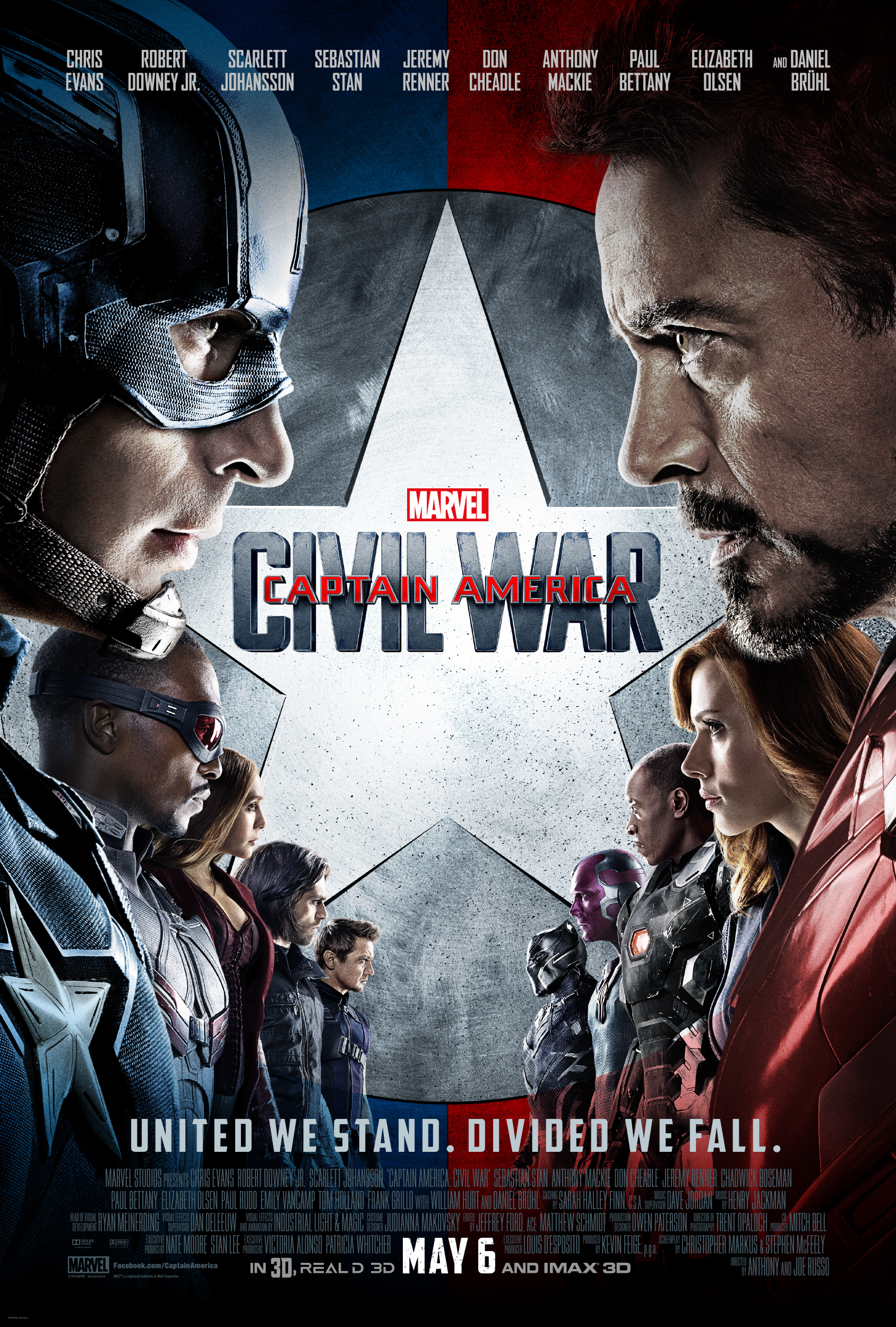 Captain America: Civil War is a gargantuan, a film hardly marketed that has cemented the legacy of Marvel if it hasn't been chiseled into a Mount Rushmore of its own already. I saw this beauty with friends yesterday and what a euphoria I exhibited afterward.
As expected, Civil War makes Dawn of Justice look like the chump that it is, the guy with a big mouth but no product or skill set to back up what he's selling. Meanwhile, Civil War carries a soft stick, at least to this most recent outing and craters the ground that lies beneath it, sending shock waves along the terrain and bringing the fruits of Marvel from coast to coast.
My friends and I were static, fixated on the pure amazement of this gem. One questioned how long Marvel could do this, an appropriate response to a rapid succession of homers for Marvel while DC struggles to hit singles. I'll be honest when I say I don't want to answer that question. I have not seen a film company hit the nail so soundly in Hollywood. Marvel has become, to quote Chic Anderson's call in the 1973 Belmont Stakes, a "tremendous machine." Its cogs are firing like the fists of Rocky, repeatedly charged with the same amount of effort, endorsement and impact as the one thrown before it. They're all planned under the vision of a strategist who has the mind of a chess protegé, someone who has both the patience and the prescience to outlast any competitor. Every sequence of dialogue is laid over a firm plot and sociological landscape. Every stunt has a punch behind the punch. Every character has a stairway to ascend, a fall to take and/or a redemption to pursue. To compare Marvel and DC is to compare an experienced elevator of talent and technique to youthful arrogance and ignorance. There is no comparison. DC has no firing gun or secret serum it is waiting to unleash. It is outmatched in every way, from the people behind the camera to the people in front of it. After Civil War, I see no possible outcome in which DC comes out on top. Marvel is the king and with Civil War, it squashes all competition. These are the halcyon days and I plan to do nothing but bask in the aurora modeled in front of me. There will come a time when we will miss when Hollywood was this good, to the point of effortlessness and when that time comes, it will be too late to join them in the sun filled with heavenly elixirs.
This is not to say that DC films are wiped off the face of the Earth. They will make climbing profits and please DC fanboys and children who continue to turn a blind eye to what is becoming borderline incompetence. Even I will appease DC and pay to see a faltering main event if only to see Batman and Superman again and be reminded they still exist but if DC ever becomes cavalier enough to premiere one of its products alongside a Marvel feature, rest assured a majority of the world, in a resounding decision, will give their money to Marvel.
Civil War is great for the story line it churns out. After another incident in which the Avengers must come to save the day, some civilian lives are lost, causing the United Nations to devise a contract for the Avengers to abide by. Tony Stark, who's slowly become unraveled after each progression in the MCU, continues to fall into fear of what could be. In his quest to conquer said fear and find inner peace, Stark signs. Captain America, on the other side of the coin, refuses to do so. No doubt pushed to this side by the integration of Hydra into Shield in the Winter Soldier, in addition to the corruption and expediency in government, Cap is reluctant to shed his freedom and allow himself to become a pawn for the world's leaders.
This discussion on modern politics and technological advances is ingenious as it is one of the main controversies in today's society. Captain America can see that America, a place that was once free across the board, has been saddled by the incessant need for security while Iron Man believes all that can be done to protect people should be done. Both sides have chips on their side, both in this film and in our culture presently.
The idea of world leaders blaming the Avengers for the damage that's been done seems erratic and illogical. If it wasn't for the Avengers, the world would have been taken over by Loki's army. If it wasn't for the Avengers, Ultron would have destroyed the world and I haven't even mentioned all of the other catastrophes that have been avoided in the individual Marvel films. The world would have ended more than five times over if not for the Avengers.
While it seems absurd to me, the world has shown, time and time again, that they must be in control to feel comfortable. What people cannot control they fear. Some people are just as afraid of the Avengers as they are of the interdimensional villainy that keeps taking disaster-filled vacations to Earth. Like we see in Dawn of Justice, Batman fears Superman because of what he could do, not necessarily what he will do. One would argue, "Well, just because they can do it doesn't mean they will. I mean, with that mindset, you'll walk around thinking everyone is a psychopathic serial killer." Those who side with Batman in Dawn of Justice and with Iron Man here do so out of fear or because they really like the character of Iron Man. I love Iron Man, too, but the premise served to us is not, "Who do you like more, Cap or Iron Man?" The question is, "Do you think superheroes should be controlled by the world's elected officials? Should the world, not superheroes, be the ones in control?" There will always be loss, but would the constraint and restriction of superheroes benefit us? And if so, do you believe that politicians will hold their side of the bargain? Do you think the world's leaders will treat superheroes like the people that they are and not cage them like freaks?
This film has a discussion on the anti-LGBT legislation here in America if you look close enough. It has a commentary about the cultures that are pervading this country. There are a lot of questions posed in the Russo brothers' two-and-a-half hour blockbuster and this is a great thing.
This parlance and the way that Marvel interweaves current events and sociological discussions within its narrative is one of many things that makes this film and studio so powerful. It is a perfect mesh of applicable material, character embodiment and the dreams of our younger selves. It is a film that everyone should see. Knowledge of superheroes is superfluous. This is what an empire like Marvel can do, mesmerize all audiences if they give them a chance to do so.
It's not just the subject matter, but the deliverance of its execution. Every step is taken with humble confidence like a man who has built his reputation on aplomb and equanimity. It is not stoicism but a confidence that is unwavering, a Curryesque humility that excites rather than bores. We know the visual drum roll when we see it. We spot the tempo changes and we can feel the flaring of the tide. The Russo brothers make this conflict of the world's heroes seem less like the crashing of mighty waves in the middle of a storm and more like the apotheosis of an emotion-laden and articulate dance, finely crafted and executed by the pioneers of its creation.
It's patient with its cast of characters and its agenda. While Dawn of Justice displays a rushed, last-second effort to catch up to the MCU's gradual progression, Civil War is a grandioso concerto that serves as a prelude (yes, a prelude) to the pieces that have yet to be flaunted. That might be the best takeaway from the Russos' masterpiece here: there's still more. After all the time we have spent with these characters and all of the highlight reels Marvel has given us, this is not the end.
We will still spend time with Robert Downey, Jr.'s Iron Man, who is easily the most changed character since this galaxy was painted. There will be more time for Chris Evans, one of the best redemption stories I've seen from Hollywood in my lifetime. I still can't believe the man who made a fool of himself in Fantastic Four all those years ago has not only redefined himself to such grand proportions but has become synonymous with Captain America. What a turnaround. There's Mark Ruffalo's Hulk, who after numerous failed attempts by others has defined the green monstrosity. Sebastian Stan's Bucky continues to battle his inner demons while asking us, "Is it too late for redemption?" Every player accentuates a role and has a story to tell. No one is a sideshow. Some are just more prominent than others. These characters have plenty of tarmac left on the runway before they launch for their trip into the stars of Hollywood fame. Whatever's in store for them, they've all joined forces to make a hell of a franchise, a dichotomy to DC that does not countervail but brazenly excels past it. If you're not on the train yet, get on it because Marvel doesn't break for nobody.
Once again, if you're new to my blog, I've always ranked movies on a scale of 0-100 (I don't know why, I just always have). Here's the grading scale.  
90-100  It's a great movie and definitely one worth buying. (Deadpool, Avengers: Age of Ultron, The Avengers, The Babadook, Interstellar)
80-89   It was a pretty good movie and definitely one worth seeing, but it doesn't quite scratch my top ten percentile. (Olympus Has Fallen, The Cable Guy, The Cabin in the Woods, Tears of the Sun, Edge of Tomorrow)
70-79   It's okay but I've seen better. It has its moments, but it has its flaws, too. (The Running Man, 10 Cloverfield Lane, Creed, Scouts Guide to the Zombie Apocalypse, Crimson Peak)
60-69   It's got plenty wrong with it but I still got enjoyment out of this one. (The Crow, Hardcore Henry, Batman v Superman: Dawn of Justice, Pride and Prejudice and Zombies, The Hunger Games: Mockingjay Part 2)
50-59   This movie isn't intolerable but it's not blowing my mind either. I'm trying really hard to get some sort of enjoyment out of this. (D-Tox/Eye See You, Constantine, Race, Everest, Hercules)
40-49   This movie is just mediocre. It's not doing anything other than the bare minimal, so morbidly boring that sometimes I'm actually angry I watched this. (Bloodsport, War, The Ridiculous 6, The Lost Boys, Zombeavers)
30-39   Definitely worse than mediocre, the 30′s ironically define the 1930′s, full of depression, lack of accomplishments, poverty and just so dumb. (Centurion, Planet of the Apes, Stonados, Redemption, Pride and Prejudice)
20-29   What did I just watch? Cliches, stupidity, nothingness, did I mention stupidity? Just…wow. (Avalanche Sharks, Catwoman, The Gunman, The Visit, The Fantastic Four)
0-19      Watching this movie resulted in one or more of the following: seizure, loss of brain cells, falling asleep/unconsciousness, feel you wasted your time/day, accomplished nothing for you, left the movie knowing less about it then you did going into it, constantly asking yourself why you came to see this movie, or near-death experience. In short, staring at a wall was just as entertaining as watching this movie. This movie deserved a sticker or a label that said, "WARNING: EXTREME AMOUNT OF SUCKAGE." (The Coed and the Zombie Stoner, The Forbidden Dimensions, Cyborg, Outcast, Sabotage)
My score for Captain America: Civil War: 98.
With a cast that flourishes in their own personas, stunt choreography and action design that manages to outdo itself time and again, a writing crew that refuses to regress and direction that sculpts it to the point of transcendence, Captain America: Civil War is the best product that Marvel has ever put out. Blockbuster season might have just started, but Civil War has already reached the finish line.