"Harry is still alive. Case closed but still open until I solve it."
Video games don't have a great track record and despite my initial reluctance to identify it as one, that's what Pokemon Detective Pikachu is. Pokemon's emergence came from its GameBoy release, Pokemon Red and Blue. Since then, it's developed into one of the largest universes in entertainment, with stocks in anime, manga, trading cards and television.
Unlike some franchises, however, Pokemon has already found success with animated films, composing over 20 projects, though they were all shipped by Kunihiko Yuyama, an acclaimed anime director. Its animated television run is still ongoing, spanning 22 years.
Surely, this would be the one to do it. There's too much right for this to go wrong.
We've said that before though, haven't we? Numerous times, correct? It's predetermination, part of sacred cinema texts: Video game movies shall not work.
There were concerns before it came out. Justice Smith had made himself into Jurassic World: Fallen Kingdom's most hated character, a film which had plenty wrong with it. Casting him in the lead role made my stomach turn. Director Rob Letterman hadn't released a film in four years and didn't have the most extensive nor impressive resume. Seemingly innocent flags start to look like red ones when connected to a video game adaptation.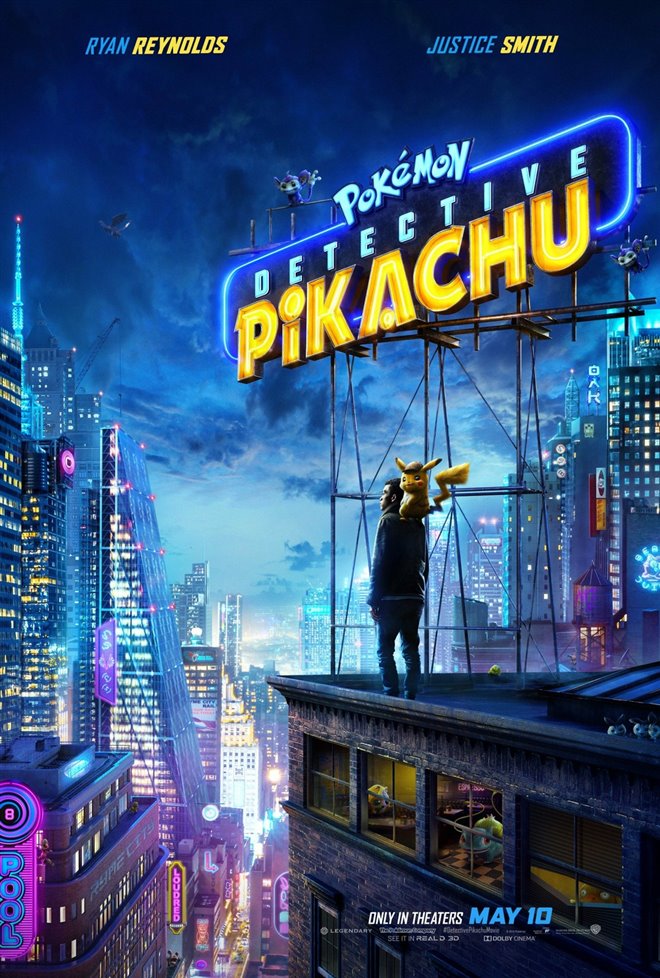 However, my compatriots, you can finally, after all these years of torment, breathe a sigh of relief and toss that monkey off a cliff. Pokemon Detective Pikachu got it right.
There were other flags before it released that said it might. Ryan Reynolds, who has completely revived his career, was a perfect cast for bantering anime rat, the adrenaline shot a film like this needed. The studio also decided to write an original character rather than bring Ash to screen, a choice I applauded. It demonstrated backbone and a willingness to create. That meant an introductory character arc which could be viewed as its own commodity rather than torn down and berated for not being an exact replica of what was demanded by hardcore fans. It would be able to distance itself from the mass expectations smashing against theater entrances and gather the confidence to walk out on stage.
That's what this film was going to be about at the end of the day. It wasn't going to be about the Pokemon themselves, though it could have been. It wasn't going to be about the spectacle, though that would inject some nostalgia into the room. It was always destined to formulate itself upon the plateau of character. Pikachu became more than a colorful rodent who squeaked "Pika, Pika". He became a street detective with a caffeine addiction, the writers ascribing a character upon a creature that, even after all this time, the fellas at Nintendo had never considered personifying. Suddenly, Pikachu became even more likable and certainly more relatable. He was funny, whimsical, light-hearted and became a central focal point of the experience more than a sidekick who never had much say in decisions or discussions. Pikachu had an enlivening spirit.
Ryan Reynolds is the best Pokemon Detective Pikachu has to offer and it's not remotely close. It's quite remarkable, the difference voice acting can make. Reynolds is the perfect talent for such a thing, as hopefully all my readers have seen from Deadpool, Reynolds' most iconic role, a performance I believe he's unlikely to eclipse. Some roles you're just born to play and Deadpool was and will forever be Reynolds' baby.
Whenever you feel Pokemon Detective Pikachu begin to teeter, Reynolds brings it back, serving as both quarterback and coach. The story funnels through him and though he's not the main character, whenever he's gone too long, the product suffers. Reynolds looms over the picture, in a good, encouraging manner, like a heavy-handed father urging his son forward. Despite his best intentions, that father, and Reynolds here, will continue to overshadow his son until he finds his way, which is what this film is driving towards. It's pushing Tim (Justice Smith) to become who he was meant to be. Reynolds is just far too talented for his presence to be forgotten for more than a few minutes. Letterman does a commendable job directing the spotlight but it begins to lose some of its glimmer without our bright yellow friend.
Tim is one of the populace, childhood aspirations killed by reality. He wanted to be a Pokemon trainer, wanted to be somebody. Now, he sells insurance.
Tim is coming to the road many shall come upon: deciding to fall back into the plush comfort of running in the hamster wheel at 9-5's or leaning forward into the gamble that might make us feel whole again. Throw in some family dysfunction and social inadequacy and we've got a character, a genuine Poke nerd.
While much of the film is catered to a young adolescent audience, there's material for more seasoned generations, allowing those to relive what they used to dream of in simpler times. Most notable is the dialogue writing. Sometimes the vehicle is more entertaining than the destination and such is the case here. Stories, especially films, often suffer from anticipation anxiety, so obsessed with getting to the big hurrah that they forget about all the intricacies that make the build what it is. We see this with adaptations especially, production executives jumping with glee when they get to throw Godzilla onto the screen or reveal the Power Rangers mech. One of these films demonstrated self-control and was a box office hit. The other? Oh, the stench.
The best things come to those who wait and toil in the meantime. Reynolds and Smith demonstrate chemistry with their lines and most of the production's best work comes in the middle frames.
The visuals are fine though not overly glossy. Sometimes, that is what we as an audience needed. Not all pictures have to be so crisp. Sometimes the mind fills in the blanks. That's not to say Letterman doesn't take luxuries. A well-composed product will shoot for the awe star from time to time and Letterman makes sure to fire a couple rounds off to remind us he's standing at attention.
The final third leaves us with some questionable narrative choices and a plot more complicated than it needs to be. Does stint the finale a bit.
Once again, if you're new to my blog, I've always ranked movies on a scale of 0-100 (I don't know why, I just always have). Here's the grading scale.  
90-100  It's a great movie and definitely one worth buying. (The Matrix, L.A. Confidential, Her, Taken, Captain America: Civil War)
80-89  It was a pretty good movie and definitely one worth seeing, but it doesn't quite scratch my top ten percentile. (The Matrix Reloaded,Wanted, Law Abiding Citizen, Scott Pilgrim Vs. The World, The 40-Year-Old Virgin)
70-79   It's okay but I've seen better. It has its moments, but it has its flaws, too. (The Matrix Revolutions, Triple Frontier, I am Legend, Ip Man 2, Ip Man)
60-69   It's got plenty wrong with it but I still got enjoyment out of this one. (2 Fast 2 Furious, Doctor Strange, Johnny Mnemonic, Jason Bourne, Suicide Squad)
50-59   This movie isn't intolerable but it's not blowing my mind either. I'm trying really hard to get some sort of enjoyment out of this. (XXX, The Silence, The Fast and the Furious, Brooklyn's Finest, Death Race)
40-49   This movie is just mediocre. It's not doing anything other than the bare minimal, so morbidly boring that sometimes I'm actually angry I watched this. (Doom, The Fast and the Furious: Tokyo Drift, Pirates of the Caribbean: Dead Men Tell No Tales, Power Rangers, Underworld: Evolution)
30-39   Definitely worse than mediocre, the 30′s ironically define the 1930′s, full of depression, lack of accomplishments, poverty and just so dumb. (High-Rise, Most Likely to Die, Independence Day: Resurgence, The Crow: City of Angels, Centurion)
20-29   What did I just watch? Cliches, stupidity, nothingness, did I mention stupidity? Just…wow. (The Snowman, Avalanche Sharks, Catwoman, The Gunman, The Visit)
0-19      Watching this movie resulted in one or more of the following: seizure, loss of brain cells, falling asleep/unconsciousness, feel you wasted your time/day, accomplished nothing for you, left the movie knowing less about it then you did going into it, constantly asking yourself why you came to see this movie, or near-death experience. In short, staring at a wall was just as entertaining as watching this movie. This movie deserved a sticker or a label that said, "WARNING: EXTREME AMOUNT OF SUCKAGE." (The Coed and the Zombie Stoner, The Forbidden Dimensions, Cyborg, Outcast, Sabotage)
My score for Detective Pikachu: 82.
I do not find it coincidental that Bonnie Tyler's Holding Out for a Hero is the hit Legendary went with as their trailer song. It's awfully on the nose. We have been holding out for a hero for quite a while, us video game people. We've had to put up with a lot of crap for it. We've had some that seemed close but never quite got there like Angelina Jolie's Lara Croft films. We've had the Mortal Kombat editions, Doom, which, having reviewed it recently, I can confirm has not aged well. Hitman, Max Payne, Need for Speed, Warcraft, Assassin's Creed, Tomb Raider and we mustn't forget this surefire trainwreck coming up. They've all abused us but salvation has come. We have a good live-action video game movie and it's a taste I'll do my best to savor. Who knows the next time this'll happen.