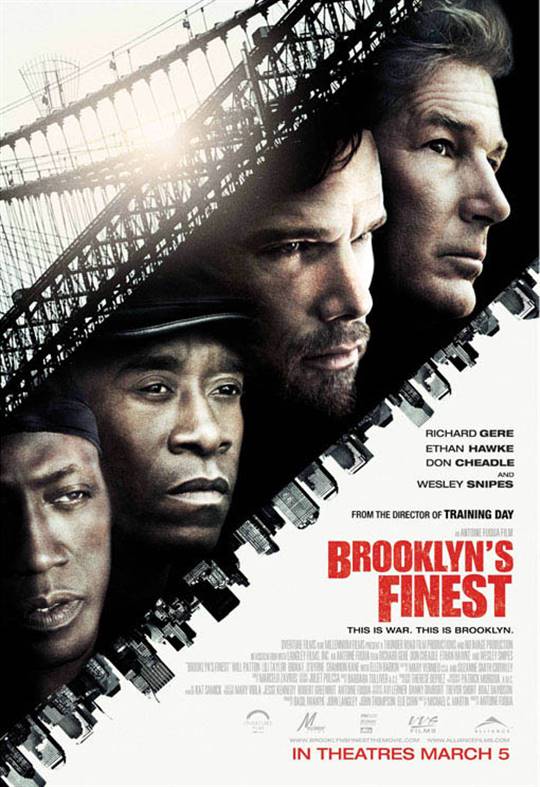 "Well, it's not a matter of right and wrong. It's a matter of righter and wronger."
Winners and Losers is coming back with the new year and a director edition is in the preliminary stages. Solid chance Antoine Fuqua's name gets picked from the pot.
I've talked about Fuqua on this blog a few times already. Most of what I've said about his style remains true: Fuqua always wants to hit a deeper meaning. He just never seems to fully connect.
Brooklyn's Finest is an ironic header because the film centers around the dysfunction and underground happenings of the boys in blue. This isn't a hit piece on police officers nor is it a glamour op. Fuqua entertains an objective look at police precincts and those who work inside the cogs.
It is a disjointed piece, however, one surgically severed into three distinct slices. An entrée of state corruption would be a pleasant supper, as would a sampling of salacious sins or perhaps a late night dessert of deserted values and devilish intent but none of those things will be served during tonight's presentation. No, this evening's specialty is…word salad!
Richard Gere"s Eddie Dugan is Act One, the least interesting and most repugnant of our three samples; a cop near the final days of his career who is motivated by getting through the period until he can skip out of the place like a schoolgirl, presumptively. He looks the other way, feels no guilt and postulates that the world is a terrible place and once you realize that fact you will become the same. The film, after dragging this character through the mud, will then try to redeem poor Mr. Dugan from being an irrevocable tool.
Let it be known that I understand what Fuqua was going for here. Police officers are not all good people. We know this. Social media educated those that weren't already in the loop. There are men in uniform like this and they should not be respected. They should be shamed and treated like the falsities that they represent. It's that the character is painted so one-sided that makes it hard to buy into. That and Dugan just isn't that interesting.
There's nothing quite like a flat character, especially in film. In novels, it's much more difficult, in my experience, to make a character bland. A lot more happens, generally, in a book than in a script but once an audience has decided that a persona isn't interesting, it's hard to get them to buy back in. Even a quip of dialogue can keep a man afloat, ya see, but a man without words, without principles, without vice or pretense, without snark or pleasantries? That's just uninviting.
Mr. Dugan is a boring man and so anything that involves him is generally boring and should've been cut from the picture without a second thought.
Act Two stars Don Cheadle as Tango, an undercover cop long embedded in the enterprise of drugs, a man who was likely told it would be a short stint, he'd get out, get promoted and get to continue his life. Already far more interesting than Act One, yes? One might even want to see what happened before he got into the business, maybe put his character transformation under a microscope, be able to get a full view of his transition. Watch as he builds connections with drug dealers who maybe aren't the worst people imaginable but are stuck in their circumstances, creating a gray situation from what was originally black and white, clean as day. Look as the man's life is torn apart and the only existence he now knows is drugs and the people who he now keeps, to the point that he doesn't even feel like a cop anymore but yet another hamster on the wheel, stuck in his current predicament and unable to get out.
That last paragraph would have made a solid film, wouldn't it? Hell, I might even be amicable to write under the right prodding. I'd imagine that would likely be the right causation for the ends Fuqua would have wanted: a dissertation about how gray justice really is and how the concept of the world being black and white is a myth that we put together to try to justify our actions, to make things right in our own minds.
But I'm just a critic, a man with ideas.
Act Three stars Ethan Hawke as Sal, a man with too many kids and not enough money to support them. The gravity of a situation can wear hard on a man, wear him to the tires are burnt off and he's gliding on rims and that's when a man gets desperate and will start doing whatever it takes. Sal's story is the best written, not that that's saying much in this production.
Brooklyn's Finest suffers from lack of ink, a film chronically underwritten. Fuqua does tend to be known more for his action pieces but this isn't an action piece and therefore shouldn't be known for action pieces. Good thing is that it isn't. Bad thing is that it isn't known for much of anything.
So we see Sal's cards at the table and the cards that he's holding aren't helping him and the 2's aren't gonna change to aces anytime soon. That piece in his pocket starts to feel a little heavier after the dealer deals another card and soon a man gets convinced that life, God even, is out to get him. Time for old Sal to start winning.
The shadows lure ya in like that, ever so kindly. Soon, the only thing to do is win and nothing else matters, no matter what it costs you, even if it costs you everything because even if you lose what you once had, you won and you finally stuck it to the guy upstairs and the system and the dealer. You finally had your say and told them all to shove it.
I have to say I'm pleased with this review. I can say it's better than spending two and a half watching this.
Once again, if you're new to my blog, I've always ranked movies on a scale of 0-100 (I don't know why, I just always have). Here's the grading scale.  
90-100  It's a great movie and definitely one worth buying. (Her, Taken, Captain America: Civil War, Deadpool, Avengers: Age of Ultron)
80-89  It was a pretty good movie and definitely one worth seeing, but it doesn't quite scratch my top ten percentile. (Scott Pilgrim Vs. The World, The 40-Year-Old Virgin, The Conjuring, Sinister, Olympus Has Fallen)
70-79   It's okay but I've seen better. It has its moments, but it has its flaws, too. (Ip Man 2, Ip Man, Kong: Skull Island, The Invitation, Hush)
60-69   It's got plenty wrong with it but I still got enjoyment out of this one. (The Road, Doctor Strange, Johnny Mnemonic, Jason Bourne, Suicide Squad, Batman Forever)
50-59   This movie isn't intolerable but it's not blowing my mind either. I'm trying really hard to get some sort of enjoyment out of this. (Death Race, Wind River, Tommy Boy, Death Note, True Memoirs of an International Assassin)
40-49   This movie is just mediocre. It's not doing anything other than the bare minimal, so morbidly boring that sometimes I'm actually angry I watched this. (Pirates of the Caribbean: Dead Men Tell No Tales, Power Rangers, Underworld: Evolution, Batman & Robin, Bloodsport)
30-39   Definitely worse than mediocre, the 30′s ironically define the 1930′s, full of depression, lack of accomplishments, poverty and just so dumb. (High-Rise, Most Likely to Die, Independence Day: Resurgence, The Crow: City of Angels, Centurion)
20-29   What did I just watch? Cliches, stupidity, nothingness, did I mention stupidity? Just…wow. (The Snowman, Avalanche Sharks, Catwoman, The Gunman, The Visit)
0-19      Watching this movie resulted in one or more of the following: seizure, loss of brain cells, falling asleep/unconsciousness, feel you wasted your time/day, accomplished nothing for you, left the movie knowing less about it then you did going into it, constantly asking yourself why you came to see this movie, or near-death experience. In short, staring at a wall was just as entertaining as watching this movie. This movie deserved a sticker or a label that said, "WARNING: EXTREME AMOUNT OF SUCKAGE." (The Coed and the Zombie Stoner, The Forbidden Dimensions, Cyborg, Outcast, Sabotage)
My score for Brooklyn's Finest: 55.
I have always been a fan of crime dramas. Have been for a very long time. Brooklyn's Finest does not belong in this category. It's a waste of space. I could have spent two and half hours of my life cranking out a Tarantino film or catching up on DiCaprio's filmography. Instead, I got stuck with this.