Hello, everyone! It's time for another round of Winners And Losers (WAL)!
If you missed Round 1, here's a link.
If you haven't read a Winners And Losers post before, here's what Winners And Losers is. Each movie an actor/actress/director gives a memorable performance or a good film, I consider that a win. For every movie they give a shoddy performance or star in a detestable film, they get a loss, leading to an overall record of wins and losses. Over 50%, you're a winner. Under, please get off the screen. I'm more likely to see winners' films and do my best to avoid losers entirely.
Not all the films included in Winners And Losers have been reviewed by me yet, but I have seen them. I haven't seen some in a long time and I don't feel comfortable grading them a win or a loss, so they've been excluded from the list. There are also some films that actors have been in but did not play a substantial enough role to be considered for Winners And Losers. There is a tab at the top of the homepage for Winners And Losers and all records will be updated regularly when I see films with participants.
The bell rings for Round 2 and three more action stars come into the ring. Let's go!
Jason Statham
Lock, Stock and Two Smoking Barrels 
Guy Ritchie's first feature brought Mr. Statham into the fold. The film is troublesome at times but demonstrates potential. It is not a smooth ride but what it does right keeps it afloat. Verdict: Win
The One
The One is headed by Jet Li but Jason Statham has a large enough role to be included for WAL. It's a boring one. The film is a watchable bad movie but Statham's presence here is a head scratcher.  Verdict: You're not the one.
Statham's breakout ride is a joyride. Statham's best character to date spawned three films and now a TV series as well, though sadly without him. Jason Statham is Frank Martin and he drives fast. Not the best of the series, but a fun flick nonetheless. Verdict: Win
Louis Leterrier's sequel is an improvement as Statham digs himself farther into the character. Frank Martin remains the man. Verdict: Win
Chaos
I watched this on Netflix not too long ago. It has Wesley Snipes and Ryan Phillippe co-starring. Wesley Snipes put another dingo on his board and Chaos remained as stable as a film can get. Excessively boring and I don't remember anything about it. Not looking forward to reviewing this. Verdict: You call this chaos?
This film was definitely different but not all difference is good. Crank's overwhelming reliance on fast-paced film editing overshadowed a weak story, but Statham's character defines this film and the entertainment it offers. Verdict: Win
This film is at war with itself and with me. Unable to meet the basics of a revenge storyboard and flat-out ignoring the stunt work ability of two of the best in the business is enough for a hard L. Verdict: You want a war with me?!
In the Name of the King: A Dungeon Siege Tale
This film is absolute garbage. It was the worst film I'd seen for a time and my return to it earlier this year was just as painful. Verdict: What king? The king of the trash heap?
Transporter 3
Haven't penned a review for the final installment, but Transporter 3 remains my personal favorite and was a salute to the character and series. Verdict: Win
The Expendables
Statham and Stallone owned the screen for the opening flick and it was well-deserved time. The chemistry between the two was on point and rarely does Statham disappoint in the stunt department. Verdict: Win
The Mechanic
A film that was going to be excluded from this round squeaked its way in when it showed up on TV the other day. It's not the best, but it's one I look forward to visiting again, especially with Ben Foster co-starring. Verdict: Win
I watched this once and hated it, a second time and still hated it, and a third and final trip was the strikeout that did it in. No interest in seeing this flawed film again or watching the overblown subplots and limited presence Statham was afforded. Verdict: Blitz off the screen, pronto.
This film was the worst! Oh my gosh, so bad. Time jumps were constant, the character motives were weak as glass and that Asian girl better never act again. EVER. Verdict: You are not safe. Not safe at all.
The Expendables 2
Still digging the explosions, stunt choreography and Statham's character, Christmas. One of the leading lads of the entourage and again, well-deserved. Verdict: Win
Watched it twice, missed the target twice. Jennifer Lopez didn't show up to play, Statham's given pebbles to work with and let's not talk about The Thing. Verdict: You're not parking on my street.
Another real doozy, Redemption was a protegé at the sport of boredom if ever there was one. A story of self-identity that never identified itself, Redemption was purposeless and didn't even hum entertaining. Verdict: Redemption? You got a lot to make up for, bud.
James Franco's presence in any movie not titled Spider-Man is a bad sign and this was no different. Useless as usual, Franco tore this movie down like it was built on cotton candy straws and Statham sunk down with it. Verdict: Foreclosed.
Killer Elite
An assassin film without much thrill or punch and with an underused Robert De Niro to boot, this one falls flat. Verdict: Not Elite.
Bred from the same themes of The Running Man, Death Race feels unfulfilled given the depth of story and character that was available here. Verdict: Race ya to the exit.
Final Record: 8-11, 42.1% LOSER!
Statham was a solid 6-1 prior to my subscription to Netflix, but since then his rating has taken a tumble. He's fallen into a rut, but I'm confident he can dig himself out. I'm still a fan of his, but he's got to give me something to work with or I'm going to start being a lot more selective with the films I choose with him.
Wins: 8 (Lock, Stock and Two Smoking Barrels, The Transporter, Transporter 2, Crank, Transporter 3, The Expendables, The Mechanic, The Expendables 2)
Losses: 11 (The One, Chaos, War, In the Name of the King: A Dungeon Siege Tale, Blitz, Safe, Parker, Redemption/Hummingbird, Homefront, Killer Elite, Death Race)
Liam Neeson
Schindler's List
I watched it for the first time my senior year of high school. It's a very dark film that contrasts villainy with a message of hope and it ushered in the great Liam Neeson so the whole world could finally recognize his brilliance. Verdict: Win.
Star Wars Episode I: The Phantom Menace
Hate it all you want, Star Wars Episode I: The Phantom Menace isn't a terrible movie. It might not be great, but it's not awful and Neeson as Qui-Gon Jinn was a great cast. Verdict: Win.
Batman Begins
Christopher Nolan's first Batman film grabbed a great actor in Neeson to oppose Christian Bale and it really helped hold the film together. Verdict: Win.
3-0? Make it 4! Luc Besson's writing and one of the best monologues of the 21st century shoots Liam Neeson into action star elites! Verdict: Duh, winning.
The A-Team
I picked up this on TV a few months ago and forgot how much I loved this movie. It's dumb at times, corny at others, but it still remains way too much fun given the duo of Bradley Cooper and Neeson. Verdict: Make it 5.
Unknown
The streak ends with this garbage. A story that draped a blanket over our head for the entire movie worked with the suspense but the climax was a complete dud and Neeson was never given the materials to act, nor did he do well with what he was given. Verdict: Hope it remains unknown.
When my family rented this, Mom quoted a review saying, "The dogs did better acting than the actors." Whoever wrote that review wasn't kidding. I didn't hate this the second time around as much as the first, but it's still a bloody dog carcass laid out in the snow. This survival tale struggled to survive an audience and those CGI dogs. Verdict: Woof, woof. It only gets darker from here.
Taken 2
Somehow close to the same standard as the original, Besson's work comes out swinging again. Verdict: Win.
Not a great film and I'm on the fence in terms of how good it was, but at the time of my review, I looked at it favorably. Verdict: Win.
Taken 3
The whole identity of the film was switched up and I didn't like the change of direction, but Neeson remained faultless. Verdict: Win.
Neeson's last venture was a mold of a prior film, somehow avoiding an obvious copyright lawsuit that should have been filed. Neeson was doomed from the start with this one. Verdict: Run from this all night.
Almost forgot about this one. A great animated film and Neeson has the voice for this kind of thing. Verdict: Win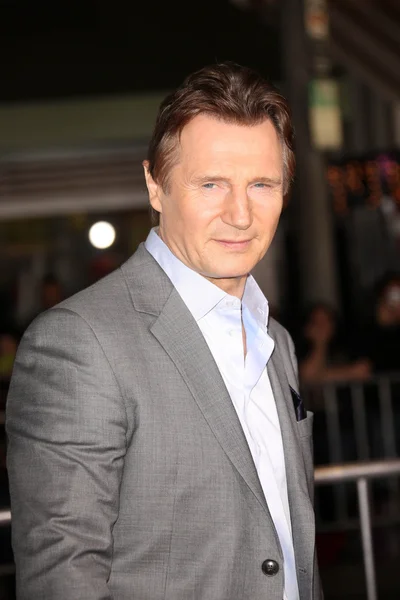 Final Record: 9-3, 75.0% WINNER!
As long as Neeson keeps hitting the targets, I'll keep watching. It's a shame it took so long for the guy's career to take off, but better late than never. I want to believe he's got one more good drama left in him, but I'm unsure if he'll go for it or not. His catchphrases and ability to relate are what really jumps out to me. He may not be one of Hollywood's best right now, but he is one of Hollywood's most entertaining.
Wins: 9 (Schindler's List, Star Wars Episode I: The Phantom Menace, Batman Begins, Taken, The A-Team, Taken 2, Non-Stop, Taken 3, The Lego Movie)
Losses: 3 (Unknown, The Grey, Run All Night)
Tom Cruise
Taps
One of Cruise's first films, Taps was forgettable and it's a good thing because if he put out product like this, he never would have become the Hollywood superstar that he is today. Verdict: I didn't play Taps when this movie ended.
Top Gun
This might be a popular film but it's not a good one. Corn on the cob it's so corny, Top Gun's following among Americans makes no sense to me. Verdict: You'll never be my wingman.
A Few Good Men
Tom Cruise's first truly good role, at least that I've seen, A Few Good Men remains one of the best law films ever made and Jack Nicholson's monologue remains just as profound as it did the first time we heard it. Verdict: Win
The introduction of Ethan Hunt and a series that would spawn some of Cruise's best stunt work, Mission: Impossible was truly gravity-defying. Verdict: Win
Climbing another rung in the ladder, Mission: Impossible II remained hot. Verdict: Win
Minority Report
One of the best sci-fi films of the last two decades, Spielberg's Minority Report explores a lot of angles and Cruise gets to be the leading lad we all know him to be once again. Verdict: Win
The Last Samurai
A study of oriental culture and character transformation, The Last Samurai is such a film to honor that Tom Cruise was given his own holiday in Japan. Verdict: Win
War of the Worlds
Many critics still don't know what went wrong with War of the Worlds, but something did. That much is evident. However, for me, Cruise sneaks away with a surprise win because I found his role the key piece that prevented this film from turning into pure feces. Verdict: Win
While the question, "How many impossible missions are there?" may begin to circulate your mind during this film, it is the best Philip Seymour Hoffman delivery I've seen and Tom Cruise continues to get farther involved with the character of Ethan Hunt. Verdict: Win
Valkyrie
A history lesson for those interested in World War II, Valkyrie never got to the depth of character I wanted, but remained attractive enough to keep me involved, with kudos to Cruise included. Verdict: Win
Knight and Day
Saw it in theaters and sadly haven't gotten to see the whole thing again since, Knight and Day allowed Cruise to demonstrate the wit he's so easily capable of as well as an upside-down story that will throw you for a loop. Verdict: Win
Mission: Impossible-Ghost Protocol
The Mission: Impossible train refuses to stop and doesn't look to do so anytime soon with a fifth film coming out this summer. The script writing still thrived, the stunts never disappoint and the adrenaline comes in a constant stream. Verdict: Win
Based off of Lee Child's novel and filmed in my home city (Pittsburgh), Jack Reacher featured some good camera work, a dominant presence from Cruise and a twisting story that worked. Verdict: Win
2013's Oblivion had potential and like many other sci-fi films that came before it and have yet to come, had potential go unreached. The third act is a major letdown, but the first two-thirds made it, at minimum, an intriguing experience worth riding out once. Verdict: Win
Emily Blunt and Tom Cruise had some great chemistry, the story was driving and Cruise played comedian, drama king and action hero like it was picking apples. Verdict: Win
Mission: Impossible-Rogue Nation
Somehow these things continue to improve just when you think they couldn't have gotten any better. Verdict: Win
Mission: Impossible-Fallout
There is nothing Mr. Cruise cannot do. The stunts he's still doing at this age…certainly can't bash this man's dedication. I start to get worried each time I come into these that this might be the film that triggers the decline of his career but it never happens. Tom, like Brady, seems to defy time. Verdict: Win
Final Record: 15-2, 88.2% WINNER!
Tom Cruise steals the top spot on Winners And Losers from Sylvester Stallone (82.4%) with an impressive 13-2 tally as of this posting. His personal life is one easily criticized but his talent in front of the camera is undeniable. He never feels out of his element, always at the top of his game and continuing to impress me. He performs his own stunts, a trait I will always applaud and root for. Now in his 50's, Cruise is still performing his own stunts, including hanging on the outside of a plane on takeoff and holding his breath for six minutes in an underwater scene in the newest Mission: Impossible-Rogue Nation. You can question his personality and character all you want, but there's no question of his dedication
Wins: 15 (A Few Good Men, Mission: Impossible, Mission: Impossible 2, Minority Report, The Last Samurai, War of the Worlds, Mission: Impossible 3, Valkyrie, Knight and Day, Mission: Impossible- Ghost Protocol, Jack Reacher, Oblivion, Edge of Tomorrow, Mission: Impossible-Rogue Nation, Mission: Impossible-Fallout)
Losses: 2 (Taps, Top Gun)