"We do not cause the destruction of a world, Captain Carter. We simply manage it. Feed off it, if you like."
John Carter has quite the reputation. Such a branding occurs when you're known as one of the biggest box office flops in film history. Based on literature from 1912, dreams of bringing the Mars man story to silver screens had been on an 80+ year tour of development hell, an unprecedented run of conflicting approaches and rights transfers. Many were familiar with Edgar Rice Burroughs' work, the same man who created Tarzan. None had a clear vision of its future. Scripts were drafted and scrapped, illustrations and footage lost, rediscovered and edited. Directors and destinations were seemingly picked off a roulette wheel.
All of this infighting demonstrated two things: 1) the material was highly regarded and 2) the standards placed upon any adaptation were very high.
Tarzan was a huge hit back in the early 1900's. It was an ongoing series for over 20 years and spurred an animated Disney classic. The ceiling for any production of the John Carter franchise was just as ambitious. This was a gold mine of content others had decided to stow away. The technology to make this work isn't here yet, they said.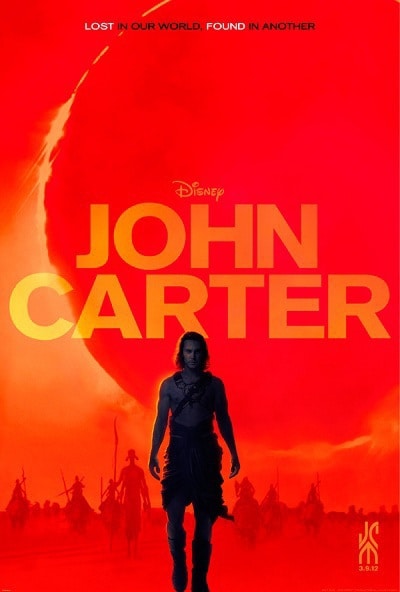 As we well know, the causation of anything in Hollywood is due to the pursuit of the greenbacks. The idea any production company would sit on something this big demonstrates the added pressure on any poor soul who decided to undertake this. Whoever it was and whenever it was, it needed to be a grand slam. Anything less would not suffice.
100 years, a full century after its inception, John Carter arrived.
It bombed.
Massively.
Those at the top of the food chain shoulder much of the blame.
Prior to John Carter, director Andrew Stanton had never coached a live-action picture. Stanton was a golden boy for Pixar, responsible for heading the ships Finding Nemo and WALL-E to Oscar gold. He was an illustrator and a painter was what Disney needed for John Carter.
However, a painter, or an engineer, for that matter, are often only as good as their tools and Stanton had zero, circle that, zero experience with live-action filming. He had the vision, sure but not the ability to implement it. Many people are musically talented and many can create singles but they are unable to transcribe what's in their mind onto a track nor mold and finesse it past a rough draft. They don't have the knowledge to do so and are therefore handicapped. Some people can translate and some can't. Stanton could communicate but not in the medium he was tasked with.
Stanton would later admit to reshooting much of the movie twice. TWICE.
The Los Angeles Times quoted him as saying, "The thing I had to explain to Disney was, 'You're asking a guy who's only known how to do it this way to suddenly do it with one reshoot.'" he explained later. "I said, 'I'm not gonna get it right the first time, I'll tell you that right now.'"
This should have been a bright red flag. To reshoot a majority of a film once is concerning. It strongly suggests a lack of confidence in your product and a conflicting direction, not to mention rising costs. To reshoot twice? Take us to DEFCON 1.
According to that same Los Angeles Times article, multiple media analysts and people familiar with the picture's funding said the film would need to broach $700 million to break even. A piece from The New York Times reported the number was closer to $600.
It managed $284 at the box office.
The New York Times reported gross mismanagement of the product from the top down. The heads of Disney at the time carried little knowledge of live-action filmmaking and Stanton seemed reluctant to listen to anyone from Disney anyway, turning instead to his old animation buddies at Pixar for consultations.
Disney, fed up with years of stagnation on the project, gave almost universal decision-making responsibilities to Stanton, allowing him to override Disney's own marketing and advertising departments.
So yes. John Carter has quite the reputation.
I curate my research post viewing to remain unbiased. I can tell you I'm not surprised to be discovering all this.
No, I did not enjoy John Carter. It reads disheveled and uncoordinated. It suffers from a heavy dosage of expositional overheating. There is a lot of information to go over and the film utilizes little tact in divulging it, leaving its universe resembling a young child's room post playdate: flung upside down and sporadically placed, with pieces to who knows what in the corner and other key items from the room seemingly escaped via time rift. So, a film shot three times, essentially.
Such gross mismanagement in any endeavor is near impossible to shield. Opening exposition, especially with rapid name dropping, is often concerning. Steering of the wheel in reshoots can cause actors to lose grip of their characters, creating broken glass art. Representations without a strong heading exude banality and blanks. That's why John Carter feels like a heavily underwritten character. We know little of his past and possibly less about his current goals and desires. I can't comment on a diaphanous character arc.
Taylor Kitsch won't get a lot of blame from me. I would like to know if he read the novels and what his ideas regarding John Carter were. It's likely his ambitions were curtailed along with everyone else's under Stanton's calling. The acting is subpar, although I will give a pass to Mark Strong, who served well in a limited role.
While all of this stuff could have been foreseen, one would think Stanton's expertise in computerized graphics would carry over. I can think of no rational reason why it wouldn't.
It doesn't.
John Carter had plenty of capital behind it and as we've gone over, Stanton was given near full control of the reins. Those reshoots afforded him and his team the opportunity to polish the visuals Stanton had built his brand on but you can shine a turd from sunup to sundown. Doesn't change what it is at the end of the day.
It's quite an underwhelming spectacle. The contours aren't exceptionally strong nor vibrant. Much of the creature and vehicle design is average. I can't think of one shot of cinematography that was memorable.
The only reason I didn't score this film even lower than I did is because I think the original content, written a century ago, is strong. I'm intrigued by some of the concepts perused, if ever so slightly. There's simply too much material to express and not enough time to do so. It's quite possible a creation like this is better in written form and I'd hope so. This was quite a slog.
Once again, if you're new to my blog, I've always ranked movies on a scale of 0-100 (I don't know why, I just always have). Here's the grading scale.  
90-100  It's a great movie and definitely one worth buying. (The Matrix, L.A. Confidential, Her, Taken, Captain America: Civil War)
80-89  It was a pretty good movie and definitely one worth seeing, but it doesn't quite scratch my top ten percentile. (The Matrix Reloaded,Wanted, Law Abiding Citizen, Scott Pilgrim Vs. The World, The 40-Year-Old Virgin)
70-79   It's okay but I've seen better. It has its moments, but it has its flaws, too. (The Matrix Revolutions, Triple Frontier, I am Legend, Ip Man 2, Ip Man)
60-69   It's got plenty wrong with it but I still got enjoyment out of this one. (2 Fast 2 Furious, Doctor Strange, Johnny Mnemonic, Jason Bourne, Suicide Squad)
50-59   This movie isn't intolerable but it's not blowing my mind either. I'm trying really hard to get some sort of enjoyment out of this. (XXX, The Silence, The Fast and the Furious, Brooklyn's Finest, Death Race)
40-49   This movie is just mediocre. It's not doing anything other than the bare minimal, so morbidly boring that sometimes I'm actually angry I watched this. (Doom, The Fast and the Furious: Tokyo Drift, Pirates of the Caribbean: Dead Men Tell No Tales, Power Rangers, Underworld: Evolution)
30-39   Definitely worse than mediocre, the 30′s ironically define the 1930′s, full of depression, lack of accomplishments, poverty and just so dumb. (High-Rise, Most Likely to Die, Independence Day: Resurgence, The Crow: City of Angels, Centurion)
20-29   What did I just watch? Cliches, stupidity, nothingness, did I mention stupidity? Just…wow. (The Snowman, Avalanche Sharks, Catwoman, The Gunman, The Visit)
0-19      Watching this movie resulted in one or more of the following: seizure, loss of brain cells, falling asleep/unconsciousness, feel you wasted your time/day, accomplished nothing for you, left the movie knowing less about it then you did going into it, constantly asking yourself why you came to see this movie, or near-death experience. In short, staring at a wall was just as entertaining as watching this movie. This movie deserved a sticker or a label that said, "WARNING: EXTREME AMOUNT OF SUCKAGE." (The Coed and the Zombie Stoner, The Forbidden Dimensions, Cyborg, Outcast, Sabotage)
My score for John Carter: 43.
A romance in the preliminary stages of budding let alone blooming, a character carousel with no pull and a stark panorama, John Carter doesn't connect on many punches and certainly not on its calling cards.