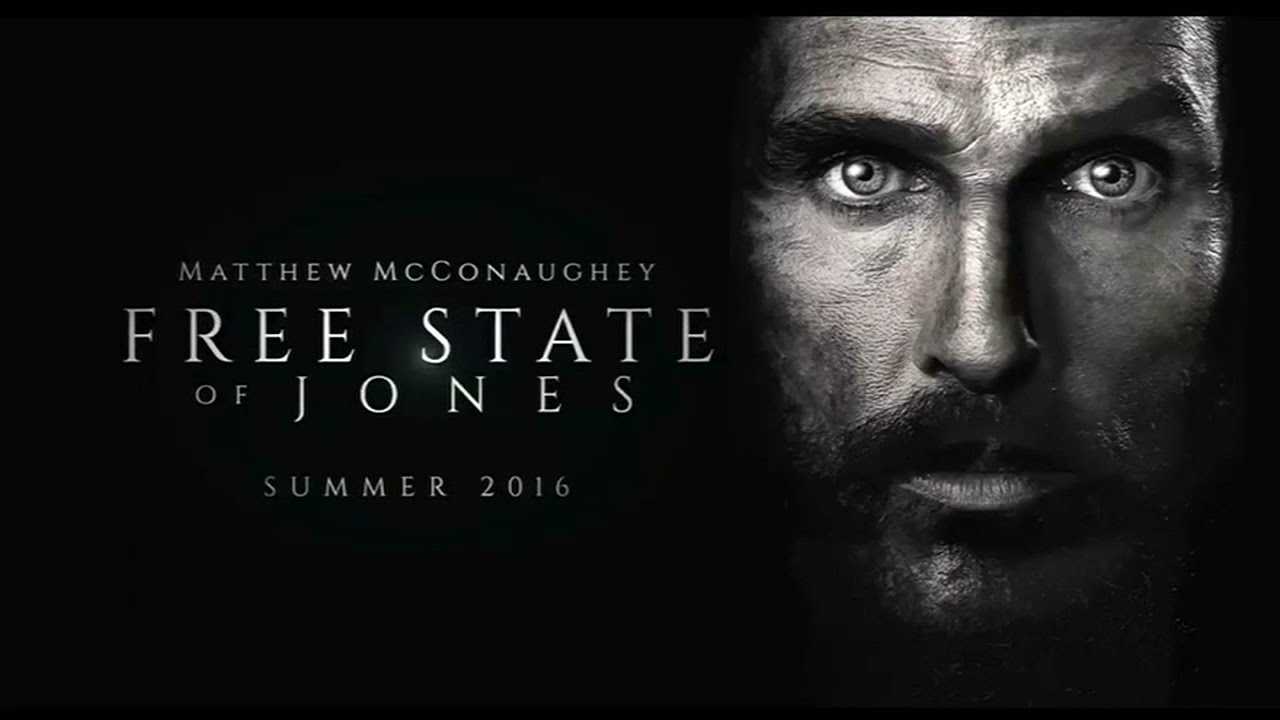 Free State of Jones is a film with composure and contrivance, the control required to manifest a civil war portrait but the deft hand necessary to allow fluidity and vibrance. Gary Ross, who has served as both a writer and director in some notable productions such as Seabiscuit and The Hunger Games shows the same tactfulness that has earned him four Academy Award nominations. This 2016 war novella highlights a group in the south who defied their defectors and the social norms of the time, fighting for their freedom and revealing the aftermath of that fight.
Matthew McConaughey stars as Newton Knight, a man who overlooks social divides and upends predispositions. He was a liberal before there were liberals, a freethinker in a time when the country needed more of those. Knight is not a complicated man nor is he one who, based purely off what the film tells us, got a first-rate education, but it does not take an educated man to understand ethics. Knight was a philosopher who acted on what he believed, upheaving an establishment of corruption.
What makes Knight so relatable is his sense of fairness and his want to do something about it. Despite his circumstance and his spot on the totem pole, he believes that any man can influence society. Knight understands the war that is being fought and knows he has nothing to gain from it. There's a war he's more interested in: a war for equality.
McConaughey is well-suited to the role, conveying the basic principles of humanity that one would think would have been universally accepted by then. His calm but concrete demeanor coupled with a soft-spoken yet adamant fire reveals a man who's had enough and will do what it takes to set things straight.
Commanded by a strong presence from McConaughey, Free State of Jones is not anchored and left at a standstill as some war dramas are. With the same acute awareness that he has used to steer some of his finest projects, Ross manages to accentuate and articulate the messages that'd you hope to see in a script of this magnitude. With some compelling exchanges and binding tension, this film, as well as Knight, make a clear statement. The picture carries relevance despite the centuries that have passed since these events occurred, not just because of the history but because of the racial partition in our culture that continues to persist.
With building, boiling racial tension, we're reminded of the history we've left behind and many have forgotten or taken it upon themselves to overlook. Free State of Jones is a true story as much as a reminder of how far, or how little, we've come. It is a film about race as much as it is about the civil war.
As the story progresses, conversations stir up the narrative but this film is about ideals and principles more than it is about the compelling exchanges between characters, though there are some of those here. Filled to the brim with thematic material, it overflows and actually begins to cause a problem.
Ross is stern in his desire to preach a clear, direct message. There's nothing wrong with that, unless that message starts to get in the way of your story, as it does in Free State of Jones' final third. The final slice of pie is no longer fresh nor is it the same flavor. What should serve as a conclusion to Free State of Jones is more of a stitched fabric to the main article we've adorned for the last hour and a half, something sewn on that clearly doesn't need to be there. That's not to say all of the ending is forced. It reveals the aftermath of Knight's fight and the bitter pill he has to swallow knowing that really nothing has changed, that they are not much closer to equality than they were before. This would be great for character but Ross doesn't go there. Instead, there are some courtroom drama sequences that, in my opinion, have no place here. We came to the theater to see McConaughey do his thing and rather than watch how he deals with what has transpired, knowing the south is no more inclusive and no less racist and unfair than it was before he picked up his gun, we're left watching a lifeless courtroom drama that serves as a poor and misplaced creative choice. While it doesn't ruin the end product, it stifles our protagonist and only half educates us as to how everything turned out.
Once again, if you're new to my blog, I've always ranked movies on a scale of 0-100 (I don't know why, I just always have). Here's the grading scale.  
90-100  It's a great movie and definitely one worth buying. (Captain America: Civil War, Deadpool, Avengers: Age of Ultron, The Avengers, The Babadook)
80-89   It was a pretty good movie and definitely one worth seeing, but it doesn't quite scratch my top ten percentile. (Olympus Has Fallen, The Cable Guy, The Cabin in the Woods, Tears of the Sun, Edge of Tomorrow)
70-79   It's okay but I've seen better. It has its moments, but it has its flaws, too. (The Running Man, 10 Cloverfield Lane, Creed, Scouts Guide to the Zombie Apocalypse, Crimson Peak)
60-69   It's got plenty wrong with it but I still got enjoyment out of this one. (Batman Forever, The Crow, Hardcore Henry, Batman v Superman: Dawn of Justice, Pride and Prejudice and Zombies)
50-59   This movie isn't intolerable but it's not blowing my mind either. I'm trying really hard to get some sort of enjoyment out of this. (Underworld, The Do-Over, X-Men: Apocalypse, D-Tox/Eye See You, Constantine)
40-49   This movie is just mediocre. It's not doing anything other than the bare minimal, so morbidly boring that sometimes I'm actually angry I watched this. (Underworld: Evolution, Batman & Robin, Bloodsport, War, The Ridiculous 6)
30-39   Definitely worse than mediocre, the 30′s ironically define the 1930′s, full of depression, lack of accomplishments, poverty and just so dumb. (The Crow: City of Angels, Centurion, Planet of the Apes, Stonados, Redemption)
20-29   What did I just watch? Cliches, stupidity, nothingness, did I mention stupidity? Just…wow. (Avalanche Sharks, Catwoman, The Gunman, The Visit, The Fantastic Four)
0-19      Watching this movie resulted in one or more of the following: seizure, loss of brain cells, falling asleep/unconsciousness, feel you wasted your time/day, accomplished nothing for you, left the movie knowing less about it then you did going into it, constantly asking yourself why you came to see this movie, or near-death experience. In short, staring at a wall was just as entertaining as watching this movie. This movie deserved a sticker or a label that said, "WARNING: EXTREME AMOUNT OF SUCKAGE." (The Coed and the Zombie Stoner, The Forbidden Dimensions, Cyborg, Outcast, Sabotage)
My score for Free State of Jones: 71.
Despite a bothersome climax, Free State of Jones is a capable drama filled with lecterns. The supporting cast is proficient and there's certainly plenty of emotion to be expected both from them and from the audience. I was more than heated when I got out of this. It's the stutter step at the end that throws this for a loop along with what at times uncertain direction.